ABOUT T3 Foundation
What is the T3 Foundation?
Welcome to the T3 Foundation. The T3 Foundation was established in early 2016, a non-profit organisation established to improve the health and well being of our elderly, in particular those who live with Alzheimer's and dementia. The nature of T3 Ping Pong means that even those in the further stages can benefit on a social, mental and physical level. T3 Foundation provide free or subsidised sessions, classes, events and equipment within London and the Greater London area.
Our objective has become to get as many T3 tables as possible into care homes and special needs sectors, so more people of all ages, with all kin ds of disabilities can enjoy the benefits of 3-a-side ping pong. We all know ping pong is the brain sport for dementia but T3 adds more:
It's sociable, with 3 to 4-a-side, so that's 6 to 8 at the table at one time! You can't help but join in, chat and laugh.
It's played seated, in an armchair or wheelchair or even standing too if they are able.
It's easy to play, especially with our special lightweight, easy hold bats and larger balls.
If you would like to nominate a care home or set up a T3 session near you, please contact us at enquiries@t3-foundation.org.uk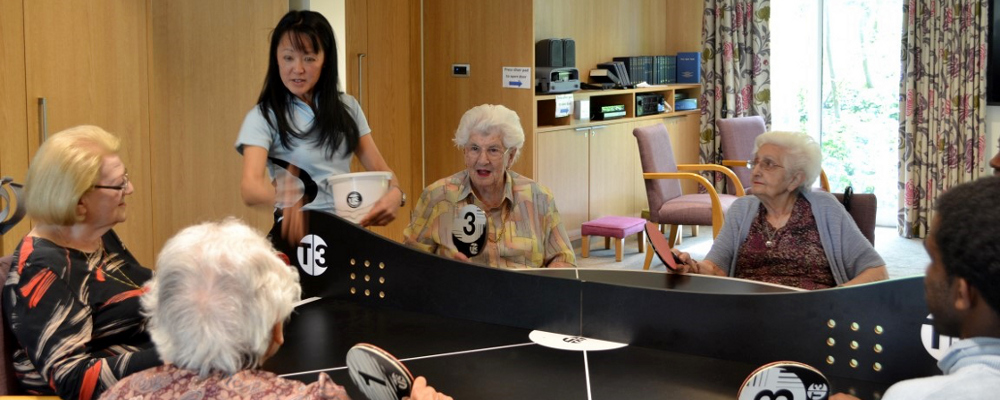 THE ACTIVITY
Recommended playing space for T3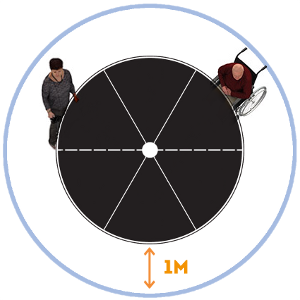 The T3ONE70 measures only 1.7m in diameter meaning it can fit comfortably in the lounge of any residency. Adding a meter to the diameter allows enough room for those playing seated and also for those able to play standing, this gives you a required playing space of  2.7m x 2.7m.
How to play T3 ping pong
Download our T3 Quick Start Rules to get the games going!
GET INVOLVED
Volunteering
If you'd like to help us fight dementia through the magic of ping pong then please come and volunteer with the T3 Foundation!
There are lots of ways you can help, from a simple donation, which goes a long way, to volunteering yourself or your company in assisting or even hosting a T3 Ping Pong event yourself.
For more information on how you can get involved, please call us on 0203 637 6282 or email enquiries@t3-foundation.org.uk now!
To donate or become a corporate sponsor and 'Friend of the T3 Foundation' please call or email us to discuss our Staff Charity Programme.
We can't wait to hear from you!