T3 Foundation
What is the T3 Foundation?
Welcome! The T3 Foundation was established in early 2016, as a UK Social Enterprise, driven by the desire to make a significant contribution to the Health, Wellbeing and Happiness of our older adults living with all stages of Dementia and Alzheimer's, through the unique form of table tennis that we have created.
Everything about our T3 Ping Pong Foundation Kit has been designed with those affected by Dementia and Alzheimer's in mind. We carried out extensive research amongst care home residents during 2016 and 2017, which gave us the insight to create a unique brain stimulation version of Ping Pong, accessible to all, even the frailest older adults and those with advanced stages of Dementia.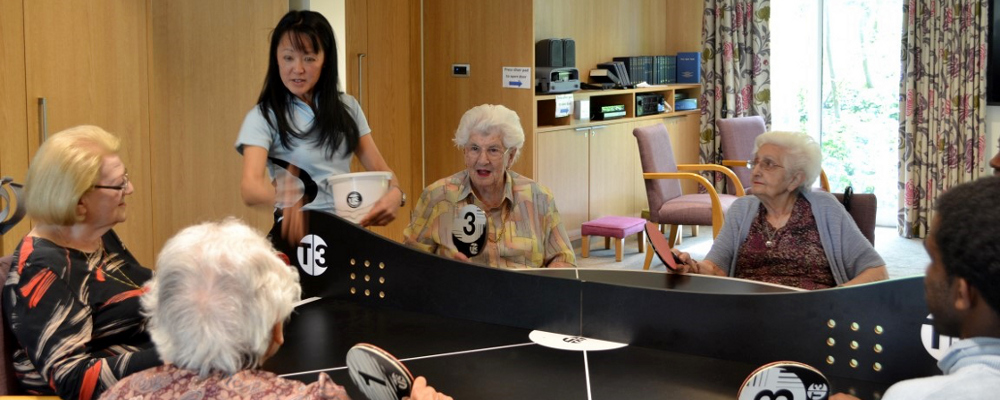 Dementia is a truly global challenge. The number of older adults in the UK living with Dementia will pass 1 million by 2022, and there are already an estimated 50 million people worldwide now living with the condition. In the US alone, every 70 seconds another American family is affected by Alzheimer's.
Our primary Social purpose at T3 Foundation is to bring the world of Health, Wellbeing and Happiness benefits of our unique T3 Foundation Ping Pong activity to as many of the world's older adults affected by Dementia and Alzheimer's as quickly as possible.
A Social Enterprise
Being a Social Enterprise means we:
1) Aim to keep the prices of our T3 Ping Pong Foundation Kit as low as possible to make its proven benefits accessible to as many care home residents all around the world, as quickly as possible.
2) Reinvest any surplus profits generated back into T3 Foundation to help us reach more people more quickly, and into further social research and activities that make a real difference in the fight against Dementia.
If you would like to arrange to have a T3 Foundation session in your care home, please contact us at enquiries@t3-foundation.org.uk
Recommended playing space for T3 Ping Pong Foundation Kit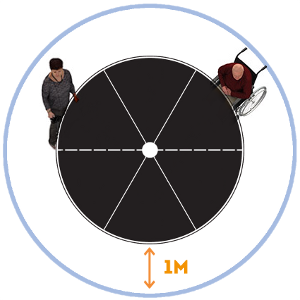 The T3 Foundation Table measures only 1.7m in diameter meaning it can fit comfortably in the lounge of any care home or private home. Adding a meter to the diameter allows enough room for those playing seated and also for those able to play standing, this gives you a required playing space of  2.7m x 2.7m.
For information on how to play the unique games we have created to help those living with Dementia and Alzheimer's using our T3 Foundation Session Plan For Care Homes, please get in touch: enquiries@t3-foundation.org.uk
SPECIAL OFFER

GET INVOLVED
Volunteering
If you'd like to help us fight dementia through the magic of T3 Foundation Ping Pong, then please come and volunteer with the T3 Foundation!
There are lots of ways you can help, from a simple donation, which goes a long way, to volunteering yourself or your company in assisting or even hosting a T3 Foundation Ping Pong event yourself.
For more information on how you can get involved, please call us on 0203 637 6282 or email enquiries@t3-foundation.org.uk now!
To donate or become a corporate sponsor and 'Friend of the T3 Foundation' please call or email us to discuss our Staff Social Enterprise Programme.
We can't wait to hear from you!