T3 FOUNDATION
T3 Ping Pong Foundation Kit
The T3 Ping Pong Foundation Kit is a unique, hugely fun activity, proven by extensive research to bring a world of Health, Wellbeing and Happiness benefits to our older adults living with Dementia and Alzheimer's.
Everything has been designed with those affected by Dementia and Alzheimer's in mind. Our comprehensive research in 2016 among care home residents gave us the insight to create the world's 1st brain stimulation version of Ping Pong, which is accessible to all, even our frailest older adults and those with advanced stages of Dementia.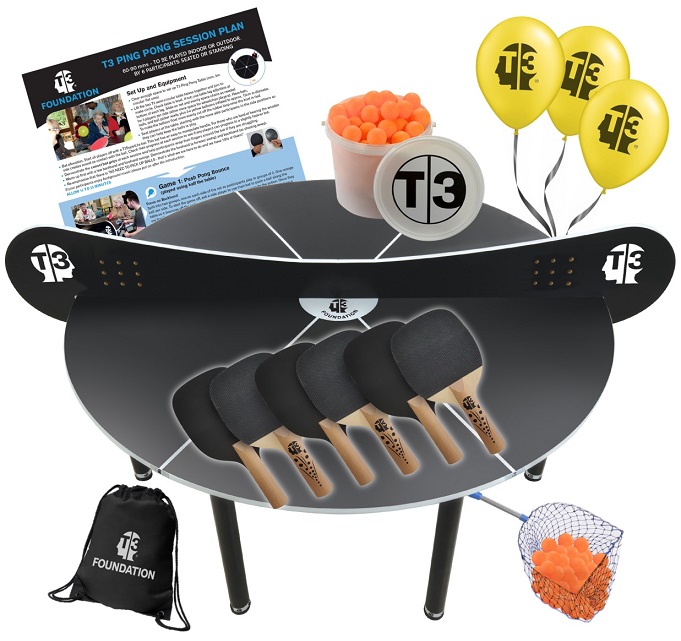 Played on a round table, in teams of 3 to 4-a-side, it's more inclusive, more sociable and more fun. The T3 Foundation Kit's unique features are:
1) Foundation Table – created so it's the perfect height and size to play seated – in a wheelchair, comfy lounge chair or standard chair. It's also possible to play standing if players are able or if staff, family or friends with to join in.
2) Colours – the matt black table surface creates the ideal contrast with the orange balls, maximising visibility and perception.
3) Unique bats – our T3 Foundation SuperLite bats are the only bat ever designed for those with Dementia and Alzheimer's. Their super-lightweight, shape, size and easy grip handles mean even the frailest players can participate. The bat also enhances the sound of ball contact, helping those who are hard of hearing.
4) T3 Foundation Care Home Session Plan – we have created a unique programme of activities and games that specifically improve the brain function and stimulation of those living with Dementia and Alzheimer's. Our Session Plan makes it easy for Health & Wellbeing professionals to deliver the tried and tested programme in a 1 hour session, from warm up to gentle competitions.
The full T3 Ping Pong Foundation Kit comprises: Table / 6 x SuperLite Bats / 100 x Orange Balls / Care Home Session Plan / Ball Picker / Bat Bag / Bag of Game Balloons.
SPECIAL OFFER

GET THE T3 FOUNDATION KIT TODAY
Already changing lives
The T3 Foundation Kit is already making a real difference to a huge number of residents in over 200 care homes across the UK. Here's the sort of feedback the Foundation Kit has frequently received from Activities Co-ordinators working in UK care homes:
'The T3 Foundation Kit is the best thing I've seen in Health & Wellbeing in a long time. There should be one in every care home in the country'
– Activities Manager, Hill Homes, London, UK
The T3 Foundation Kit has also been endorsed by Table Tennis England, the official governing body for table tennis in England.
If you are interested in finding out more. . .
If you would like to find out more, buy a T3 Foundation Kit or book a demo, please just get in touch with us. We would be delighted to help: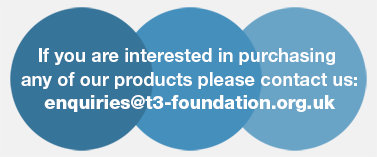 Ask for: Michele Lucato
Call us on: +44 (0)203 637 6282
Email: enquiries@t3-foundation.org.uk
Address: T3 Foundation
54 Farringdon Road,
London,
EC1R 3BL, UK