Parkview Care Home Embrace T3
T3 Session Plan Becomes Part of Care Homes Regular Activity
Having contacted T3 in regard to holding a T3 session at the Parkview Care Home, we found residents, family members and staff alike keen to see just what T3 was about. With one of the residents being a former badminton champion and another having played ping pong for many years, we definitely saw their competitive streak come out.  The staff were so delighted with the results, they now have a table permanently in their recreation room and the health and well being coordinators now use the T3 session plan as part of their activity programme.

The only Featherweight Bat of its Kind
Weighing just 97g – The T3 Superlite Bat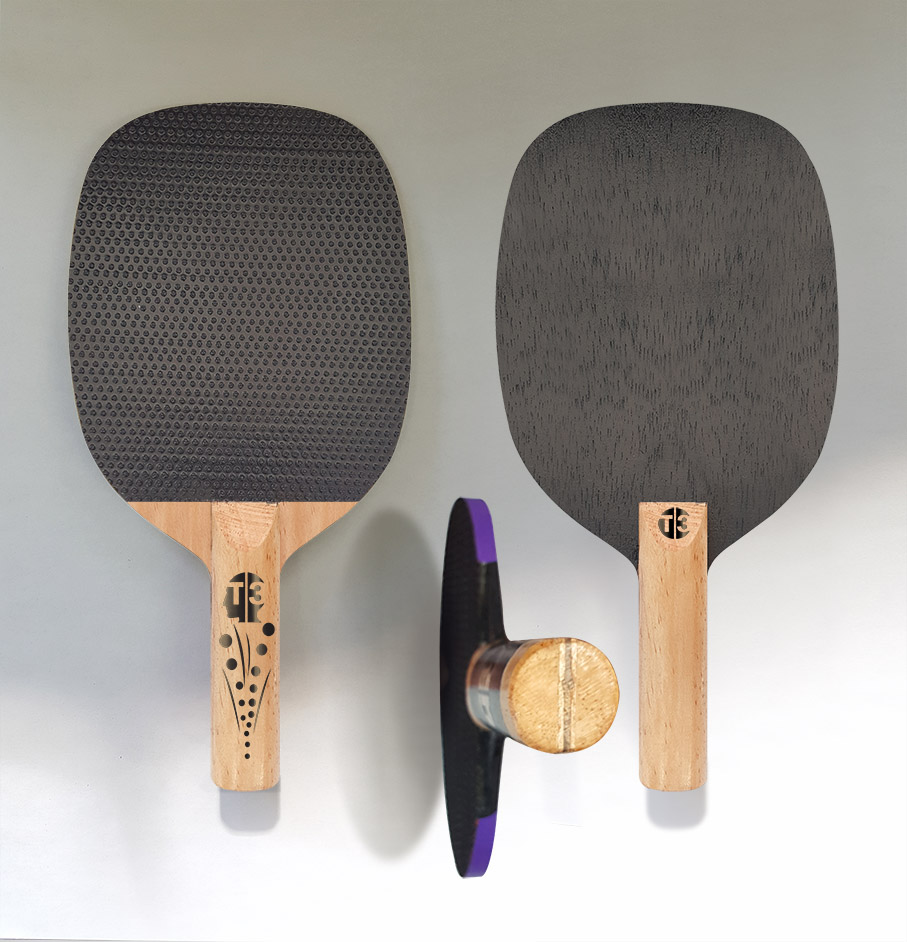 A unique bat created specifically for use by the elderly and those with movement restrictions in their hands. The T3 SuperLite is a unique bat, specifically designed to overcome problems by those living with Alzheimer's, rheumatism or any other condition that makes a standard bulkier flat grip uncomfortable and hinder play.
Following 2 years of UK research at various care and residential homes into the benefits of T3 3-a-side seated ping pong, the first designs were put into new R&D. Each version was an improvement on the last until the players were totally satisfied with their new bat, the T3 Superlite. This is the only featherweight bat of its kind, made of all natural materials and weighs only 97g, it really lives up to its name.
T3 Session Plan is a Success with Elizabeth Lodge
Elizabeth Lodge Welcomes T3 Foundation
Residents and staff of Elizabeth Lodge welcomed T3 to their care home to demonstrate the T3 session plan. With a mixture of abilities and some wheelchair bound residents, we were delighted that everyone could join in. Residents with movement restrictions in their hands who would normally find a standard bat too heavy, could easily take part and play with T3 Superlite bat, which weighs just 97g. It was such a success, plans are underway to revisit Elizabeth Lodge to hold another session.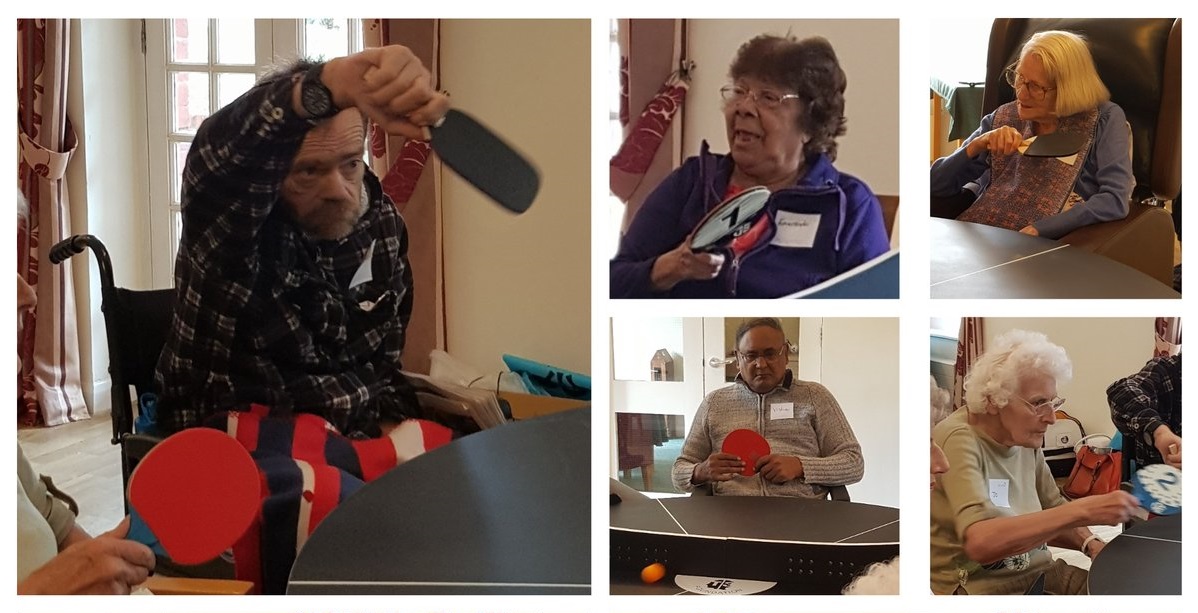 AGE IS JUST A NUMBER
Local School Promote Inter-generational Activities with the Help of T3
Smiles galore were plentiful all round when Marcus Duran, Community Engagement Coordinator for Our Lady's Convent High School, and 6th form students, came to St Anne's Nursing Home in Islington.  The school's ambition was to further develop its existing commitment to working with local people in the local community, focusing on practising innovative methods of engagement, particular across generations. T3 fit the bill perfectly. After two weekly lessons with the T3 team at Our Lady's School, the students then prepared themselves until they became confident in all aspects of the T3 Session Plan.  The next stage was putting it all into practice. Staff at St. Anne's Nursing Home were only too happy to invite us back and let the girls take part in a T3 session. It proved to be such a success for both residents and students, that they came back and held another 3 sessions!

TAKING T3 PING PONG INTO THE COMMUNITY
Highbury Table Tennis Club Join Forces with T3

to Launch Local Outreach Programme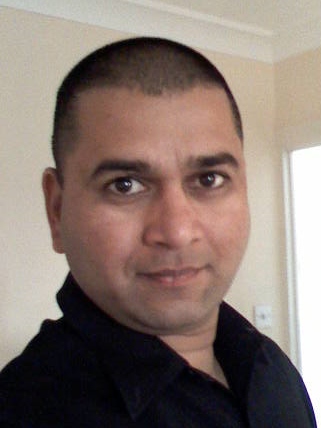 T3 were approached by Sanket Shah, an experienced coach and founder of Highbury Table Tennis Club with regard to setting up an outreach programme, taking T3 Ping Pong into the local community. Using the T3 Foundation ONE70 table, the programme aims to deliver up to 5 weekly sessions in local care and residential homes with a qualified coach playing seated/wheelchair and standing table tennis using the T3 Session Plan, a 60 minute official programme of activity, covering simple but effective drills, hand and eye co-ordination exercise and much more.
Sanket commented "Once the care homes get involved in the programme, and residents become active and familiar with taking part in regular exercise, we can invite them to have friendly matches with other homes, and involve them with our club. So many of our ex professionals would like to share their experience and get involved in this programme. We hope to generate funds we can roll back in and become the first club to officially train more players and coached to qualify to deliver the office T3 Senior Session plan. We will also keep T3 table tennis tables at the club after the project so that we can continue to offer daily sessions". 
If you are interested in trying out T3 Ping Pong please visit www.highburyttclub.co.uk
The first programmes are due to be launched in 2018, so we will keep you posted.
AGE UK ISLINGTON TEAMS UP WITH T3
Age UK Islington Includes T3 Ping Pong in their Activities Programme
We were delighted when Andy Naylor, Client Participation Coordinator at Age Concern Islington, got in touch to enquire about T3. After meeting volunteers and taking them through a T3 Session Plan, we were thrilled to be told that T3 Ping Pong is now a permanent fixture within the activities programme at Drovers Centre.
Sessions every Wednesday 10am – 12noon
http://gtislington.com/get-togethers/drovers-centre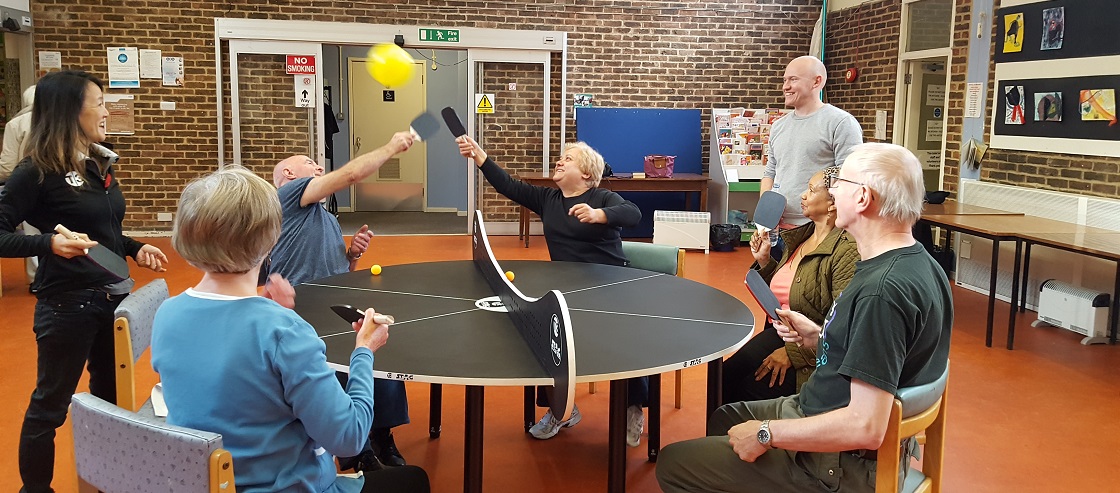 July 2017: T3 Ping Pong Debuts in the US
Liberty University Medical School Partner with
Runk & Pratt Senior Living
Runk & Pratt took delivery of a T3 Table (the only one of its kind in the US) for their Liberty Ridge facility.  Working in partnership with the table tennis team and coaches at Liberty University Medical School, studies are being carried out on how the game of ping pong affects those with Alzheimer's or dementia. Charlie Hancock, Activities said "When I told one of the residents, that the T3 table was getting moved to memory care wing, she said "you can't do that, we want it here so we can use it. The laughter in the room, and smiles on the faces were contagious".
Easter 2017
Bringing T3 Ping Pong into Care Homes
DEMENTIA AWARENESS WEEK 2017
T3 Foundation Visit Silk Court Care Home Supported By Barclays UK
In the lead up to Dementia Awareness Week 2017, the T3 Foundation visited Silk Court Care Home – Anchor in East London for a day full of ping pong activities. Supported by Barclays UK as part of their Citizenship Day programme, T3 were able to host multiple hour-long sessions in one day so that residents on different floors of the home were all able to take part. It was a fantastic result seeing smiles on many faces and hearing the rooms fill with laughter while residents batted away.
See how the session went on our YouTube channel!

UNITED AGAINST DEMENTIA
Time To Forget – Alzheimer's Society TV Advert
EASTER 2017
T3 Visit Islington Care Home on Good Friday to Launch New T3SuperLite Bat
St Anne's Nursing Home in Islington were the first to trial T3's new SuperLite Bat developed specially for use by senior players. To celebrate the Good Friday bank holiday, St Anne's hosted an open day with T3 to bring together friends and family of residents and demonstrate the social benefit of the new activity they have welcomed into their residency.
After a year of continuous research into adapting the activity to meet care home needs, T3 revealed their new bat which was created to support as many people to pick up a bat and get involved. This new bat weighs under 100 grams and features a plain wood finish on one side giving it an extra 'PING' when hitting a ball. The rounded handle and lighter weight meant that participants could stay involved in the activity for much longer without feeling tired from the movement.
A fun time was had by all of those involved in this day and T3 would like to St Anne's and Anchor for taking on T3 as one of their scheduled well-being activities, at least 3 times a week! Thank you also to Sainsbury's Local Mercer's Road (N7) for their very generous donations of Easter treats for the residents of St Anne's.


STUDYING THE BENEFITS OF T3
T3 Study benefits of group seated Ping Pong for Dementia
T3 have continued to study the benefits of seated T3 for residents in care homes living with dementia. Starting in 2016, The T3 Academy began visiting care homes in the North London area to test how T3 would be received by residents. The results since our first care home visit have been astonishing and led to our 12-week programme at Trees – Hill Homes.
Steve Drew, Manager at Trees, agreed to our 12 week plan after seeing the positive impact of session first hand. Half an hour into the session our participants already show a change in behaviour. By the end of the session everyone is sitting happy around the table engaged in conversation.
After only 5 weeks we are already beginning to see improvements from our regular participants. Our attention has been focused on the physical, mental and emotional impact of T3 on the residents. Through observation we can already see improvement in table tennis skill with rallies continue longer than our first session. They are also enjoying the social benefit of T3 shown through the playful and friendly exchange of teasing remarks around the table. The main difference is spotted once the session ends. A room which was quiet when we walked in is now filled with conversation as we are leaving.
For enquiries regarding our care home activities please contact us by email.

T3 Academy's Christmas Party
Holloway Locals come out to support T3 Academy
A cold windy Tuesday evening did not stop locals from Holloway coming out and showing the best of true 'community spirit' to support T3 Academy's first ever ping pong party held at The Edward Lear.
The ticketed event opened by The Worshipful the Mayor of Islington, Kat Fletcher, and consort, The Reverend Melanie Toogood, included a welcoming drink and a free mince pie on arrival. Followed by a night of ping pong fun by taking part in a knock out tournament, all for a fantastic cause.
Digi Berry, T3 Founder said "A huge thank you to The Worshipful the Mayor of Islington Kat Fletcher and consort The Reverend Melanie Toogood for supporting our first event.  The feedback has been amazing, with people taking a genuine interest in what we do, not only by donating money but also by asking how they can get involved in future events. We've got off to a brilliant start and look forward to even more in 2017"

WORLD ALZHEIMER'S DAY 2016
T3 showcase benefits of Ping Pong on World Alzheimer's Day!
World Alzheimer's Day 21st September 2016
To celebrate World Alzheimer's Day T3 Ping Pong and Hill Homes, a residential care home in North London, are delighted to announce that they will partner for stage three of T3's research into the benefits of playing ping pong on those suffering from Alzheimer's and dementia.
T3's round design means that more players can play at the same time and can surround the ball so it is less likely to leave the table, another benefit is that they can play seated! No special chairs are required meaning players can use their standard lounge chairs or wheelchairs. For this reason it has been possible to work with very elderly and advanced suffers of the conditions which would be impossible with a traditional table.
T3's research results so far have established: 
The best exercises and games to play by physical and mental ability/condition.
The designs of bats that are more suitable for certain players depending on their physical agility and mental ability. This has led to the development of a special 'Senior T3 bat' being designed from the research findings in the second stage of the study. It is being progressed with the help of Stag International (India's biggest table tennis and bat manufacturer; and sponsor of more Para Olympic table tennis players than any other brand. The two brothers who own the company also used to play table tennis for India so know the sport inside out!)
The best ball colour, weight and size depending on the players physical agility and mental ability.
Optimum time per session and activity structure.
The remarkable benefit to the social and emotional well-being of the participants.
Stage 3- What's next…
12 week study into:
The clinical benefits of playing and ideal frequency.
The psychological benefits of participation and their longer term effects.
the social benefits of the game to the residents and carers within the care home.
The rates of improvement among participants over the research period.
We are delighted to be partnering with T3 on the third stage of their research and look forward to seeing the benefits of the game rub off on more of our residents! So far the response has been incredibly positive it has surprised us all. This could be our 'Awakenings'! '
For more information please contact:
Jason Garcia
T3 IN CARE HOMES
Study of the impact of T3 Ping Pong on the elderly
Back in 1998, Japanese studies showed the world how ping pong activated up to 5 portions of the brain in Alzheimer's subjects during play. In light of this surprising and positive discovery, table tennis was designated the 'World's Number One Brain Sport'.
Today, 18 years on, T3 3-a-side ping pong experienced a similar revelation as it completed stage 1 of its study on; 'The impact of T3 Ping Pong on Elderly UK Care Home Residents including  Alzheimer's and Dementia sufferers.'
Touring a range of inner London care homes, to first test SEATED T3 ping pong where communal  space is limited, T3 discovered that it wasn't just about the physical and mental health benefits of ping pong that were experienced, but with T3 came something extra; an overwhelmingly  positive emotional reaction to game. Time and time again the implementation team witnessed the fun and joy experienced by the participants.
The study showed just how good ping pong was at stimulating yet more parts of the brain!
At the end of each session 100% of residents fed back that they 'enjoyed participating', 'would like to play again' and 'had fun!' 75% described it as 'sociable' with 68% loving the fact that they could chat while playing.  And a further 45% saying specifically that '…It makes them laugh!' Almost three quarters of them also agreed that it would be a great game to play with visiting family and friends.
It was definitely voted as a weekly activity option they would like to have with 20% even suggesting daily.
After an initially cautious response from a number of onsite physiotherapists, by the time they had witnessed the whole session, they all agreed that the social and physical benefits combined made it a winner. The only negative comment received from one was '…but who is going to pick up the balls?' A volunteer quickly jumped in and said 'I will – this is worth it!'
T3ONE70 was the right choice of table for the homes in terms of size, ease of set up, number of players round the table and storage. It fitted well in all venues.The circular shape meant it could also be used in smaller rooms where for example, traditional rectangular tables would struggle to be accommodated. The physical testing of the 'seated' aspect of the game, using standard static care home lounge chairs and wheelchairs worked well with no issues for the players or Activities Coordinators.
Some of the care homes did discuss taking the table outside in summer or using the T30 full size tournament table, but there was quite a lot of compelling evidence to suggest that the participants were much more comfortable playing inside with consistent lighting1, no breeze or temperature fluctuations2 , sound control3  and a familiar, consistent and flat surface underfoot.
The best colour combination for play was by far 'an orange ball on the matte black surface'. The hard net was also enjoyed and useful as participants, especially those not playing a game, could track the ball for longer and give them multiple chances to reconnect with the ball. The activity wasn't over in one shot nor were they reliant on an opponent to return the ball. Better players tended to hit harder and enjoy the centre position often refusing to rotate or leave the table.
Interestingly the 3-a-side aspect of T3 often didn't concern the participants who were more interested in how many players they could get around the table.  The average number of players at each session was 8 (this usually included 2 wheelchair participants – one per side), 4-a-side worked well as players tended not to 'poach' or reach too far across for the ball due to physical or sight impairments).
The research teams noted that at the end of each session approximately a third of participants had slight but visible, perspiration on their faces. However when asked if the room was too warm or stuffy at the time, players were all very firm in answering 'no' and any breeze was found to be uncomfortable or even irritating2. This was in fact the only negative encountered.
Each care home had an average of 20% negative participants who said they did not want to join in but by the end of the session they were laughing with everyone else and didn't want the session to end. It was also heartening to receive personal 'thank yous' and 'requests to return next week!' from these players especially.
Some of the better players tried out the smaller T3 Supermini bats (see pg.7), expectation was that it would reduce strike rate – it did not! Some even played better as they found it easier to hold the smaller bat due to weak/arthritic hands and wrists.
They all very much enjoyed holding their own ball, as well as serving. Lots of free play took place using multiple balls to warm up.  Structured sessions were more effective where play levels were similar.
Those with more extreme physical disabilities, through mental health issues, dementia or more advance Alzheimer's, responded very well to one on one coaching and with only one ball in play at a time. The rest of the players surprisingly, responded better with multiple balls on the table, they found it more fun! And felt it gave them more chances to hit.
At each venue there were approximately the same number of observers in attendance who watched the games and were also keen 'to give it a go' at the end of the session. The ETTA (English Table Tennis Association) attended one of the sessions and commented that as '…residents were able to play from their seats, it meant that they were able to rest and compete for a longer period.'
 'Everyone without exception enjoyed the event. I've never seen them so engaged with each other too – there's a lot of banter, and noise! ' Robyn Deutsch – Activities Coordinator
'It's a miracle game for the elderly!' said daughter of 97 year old mother with Alzheimer's  'I've never seen my mother so engaged since she came here 2 years ago… excuse me, watching her is making me cry, I'm so happy for her.'
T3 Ping Pong comes to care homes!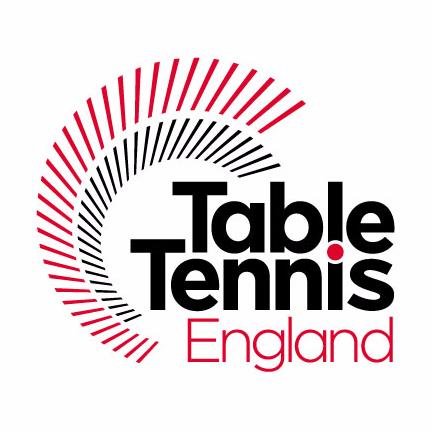 T3 proved that Ping Pong is a sport for all ages by running a fantastic and very popular three a side competition at Hammerson House Care Home! The session was provided by T3's coaches to a number of residents, who quickly adapted to the challenges of three a side on a circular table.
Hammerson House caters to residents over the age of 90, and the social benefit of playing table tennis was clearly evident as players thoroughly enjoyed competing with one another and engendering rivalry across the table. The circular table allowed at least six players to take part at the same time and residents were also able to play from their seats, which meant that they were able to rest and compete for a longer period. T3 also provides a larger table which would have allowed up to 12 residents to take part in the activity.
The table was fantastically well received by the care home and they are already looking forward to the next opportunity to play!
Posted May 12, 2016 by Table Tennis England